PLANTATION WINDOW SHUTTERS
THE SALISBURY RANGE
The Sheila's range of our plantation window shutters is our best selling range and offers the best value for money shutter. Buy two shutters and get the third FREE
* least expensive shutter FREE
Need more information? Click the button below to view the S-Craft plantation shutter and blind brochure. Discover possibilities, colours and shapes that you can achieve at Sheilas' Shutters
BUY TWO SHUTTERS AND GET A THRID FREE!
Complete with...
Silent tilt hidden tilt mechanism

Enhanced hidden hinges for larger doors

Split tilt as standard

UV paint protector

Recessed installation or Z- Frame

Full height, Cafe or Tier on Tier
Salisbury shutters is our all inclusive hardwood range, combining style and practicality and all of the top end features you can get on a shutter. Whats best is our ongoing offer of buy two and get a third Free.
Salisbury shutters are available in all of our popular colours, and a range of louvre sizes that help bring your vision to light. Larger louvres allow more light to filter into your home, while smaller ones provide more internal privacy.
​
* Least expensive shutter free - Every two shutters purchased get a third for three eg 3 for 2 or 6 for 4 etc
Key Features:
Real hardwood panels
Choice of colours
Available in 4 Louvre sizes ranging from 47mm to 89mm
Not suitable for special shapes
Silent Tilt
Hidden hinge on large doors
Split tilt as standard
Suitable for:
Larger windows and spaces
Rooms that aren't disposed to condensation
Use as room dividers or bespoke wardrobe doors
​
As the combination of real hardwood and MDF is ideal for larger spaces, Cuba is perfect for use as a room divider, for example with a bi-fold track system.
The panels are hinged together, and can simply be folded back against each other, to provide easy access when required. A 180° option is also available, allowing panels to be folded right back against the walls.
As a premium, made-to-measure product, S:CRAFT shutters can be used as bespoke wardrobe doors. Due to the lighter hardwood panels, Salisbury is therefore ideal for larger built-in wardrobes, and with fixed louvres, is excellent for providing ventilation to your belongings.
The panels are manufactured in a mix of sustainable hardwoods, all with a linear grain that is excellent for painting, providing a flat and uniform finish. The sides of the panels (stiles) are plain, giving a crisp and clean look to the shutters.
Imagine a vision for your space, then see it come to life with premium, made-to-measure shutters, designed to your taste.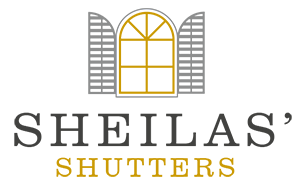 CALL SHEILAS' SHUTTERS ON: 01242 3000 75
BOOK A FREE HOME SURVEY AND DESIGN CONSULTATION