BESPOKE SHUTTERS IN A TUDOR HOUSE
Sheilas Shutters have just installed several shutters in a Tudor house near Tewkesbury. Being a Tudor property none of the windows were square. So we constructed bespoke timber fillets to create square apertures for the shutters to be installed to the highest standard. At Sheilas Shutters we employ the very best installers. Qualified and time served joiners and carpenters. Unlike most companies we believe that the longevity of the shutters rely on quality installation and we also want the very best for you home. Give Sheilas a call to book your free home survey, no matter what shape of size windows you have.
PLANTATION SHUTTERS INSTALL IN TEWKESBURY
A recent job completed was in this lovely family home in Tewkesbury. The client selected the Bermuda range, a painted MDF shutter door and frame with ABS louvres in the living and bedrooms and our waterproof Java shutters in the bathrooms. The colour selected was Pure White. Installation was on a bright Autumn day which showcased how much light shutters project into the room. A common misconception is that shutters will block the light from the window, however the louvres assist the light, channelling it into the room. All the windows in the house were fitted with our shutters and we think they look great! Get a Free quotation from Sheilas Shutters, Contact us here
PLANTATION SHUTTERS TEWKESBURY
We are pleased with this new install of Shutters at this lovely house in Tewkesbury. From our S-craft Bermuda range of Shutters this property now looks fantastic from the outside as-well as the inside. Our team of dedicated fitters completed the install within one day to an exceptional standard. Do you live in Tewkesbury and would like window shutters? Contact Sheilas Shutters for a free no obligation quotation
Our new Shutter shop in Tewkesbury has just had shutters fitted in the display windows. If you are passing by Barton St, in Tewkesbury take a look at our lovely new Split tilt plantation shutters from the S-Craft Bermuda range that have just been installed.
SPLIT TILT SHUTTERS IN GLOUCESTER
Todays installation was in Abbeydale, Gloucester. Having already installed shutters at two other houses on the street this new job comprised of the two front 1st floor windows for a bedroom and a dressing room. From our popular Bermuda range in a silk white these plantation shutters featured 'split tilt' operation. Split tilt allows independent operation of the louvres. In this instance the lower section was independent of the upper section allowing our client to maintain privacy in their bedroom and dressing room whilst letting in light through the top louvres.
This property's bay window in Charlton Kings looks great with our beautiful plantation shutters. The owners have been struggling to dress this kitchen / diner window for some time. Experimenting with blinds and curtains to no avail. Now our shutters provide privacy, warmth and style.​
CAFE STYLE SHUTTERS IN BATTLEDOWN
Today's install in Battledown, Cheltenham comprised of cafe style shutters. Cafe style provide much needed privacy by covering just the lower portion of the window. Complementing blinds or curtains can then be used to maintain an elegant finish.​
BASEMENT SHUTTERS IN CHELTENHAM
This regency Property in Cheltenham now has the much needed privacy in the lower basement windows as well as the rear guest bedroom. Not only do our shutters provide privacy they also improve the appearance of any property and provide an element of security.​
PLANTATION SHUTTERS GLOUCESTER
The front elevation of this Gloucestershire property has been enhanced by our Bermuda shutters. These bespoke shutters perfectly match the window design and add roadside privacy and also improve the thermal properties of this family home.​
Cheltenham Broadwalk gets Shutters
The prestigious Cheltenham Broad-walk, Imperial Square has just got its first set of window shutters. We are proud to have supplied and fitted our quality plantation shutters in this luxurious period apartment. These Beautiful bespoke solid wood (FSC) cafe style and french door Plantation Shutters were installed this month in a lovely property on the Broadwalk in Cheltenham. The client wanted to add privacy to their property but still maintain views across the green. Using a Cafe style shutter that covers only a portion of the window provides much needed privacy but does not detract from the Georgian sash windows. In the two rear bedrooms we supplied high quality patio door shutters that were tailored to the clients specification. Add warmth and privacy to your property with Sheilas Shutters bespoke Plantation Shutters. Call 01242 3000 75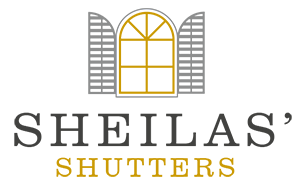 CALL SHEILAS' SHUTTERS ON: 01242 3000 75
Showroom: Bristol Road, Gloucester GL2 5DH